Welcome to Our Class 2005
Our Hogben St classroom
Hello everybody.
Welcome to Our Class 2005!

(can you decode this message?)



This year we are going to use it differently: you will be writing posts directly. I will invite you as
contributors
* and I will show you how to send photos and create links.
It's going to be an interesting year. I'm really looking forward to doing interesting things with you.
Cheers!
Rosa
These are some of this year's students and three of the teachers:
Grace Sheriye
Jessica & Mirjiana
Chris & Rita
Cassie & Nentis
NENTIS
My name is Nentis. I am married. I live in Penshurst. I've lived there for 2 years.
My flat has two bedrooms, one lounge room, a kitchen, a laundry and a balcony. I haven't got a garage. Just a car park. There is no garden, as I live in a flat.
I go shopping every Saturday afternoon, after the mosque. I watch TV after everytyhing is finished, sometimes before going to school. I listen to the radio sometimes in the car and sometimes when I am ironing.
We go to a restaurant if we haven't got any activities in our leisure time, because sometimes on the weekends I'm more busy than on the weekdays. I do a lot of volunteer work for the Indonesian community (magazine editing, organising Tsunami Appeals, etc).
I cook every two days. I cook Indonesian dishes because I don't know how to cook from other countries. Every day we just eat Indonesian food.
Ivy & Athene
Jian & Rosa
Nada & Jenny
Natasha & Echo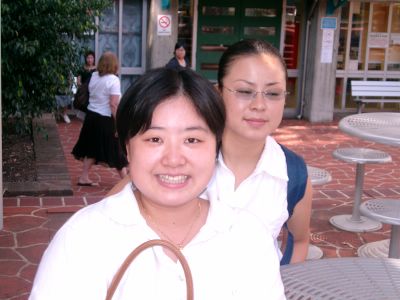 Eva
Anu & Marion
*
contributors
: you add your own posts to our blog. To see examples of how some Japanese students of English do it click on their blog
Feel the Season
and read some of their posts.
Forum
*:
Holidays
Click on the forum topic (Holidays). Now click on
post a new message
to tell us about your holidays.
You may be asked to type a name and password. To get the user name and password you have to
send me an email
and I'll give the name and password to you.
*A forum is a place in our website where we can discuss topics in our own time.